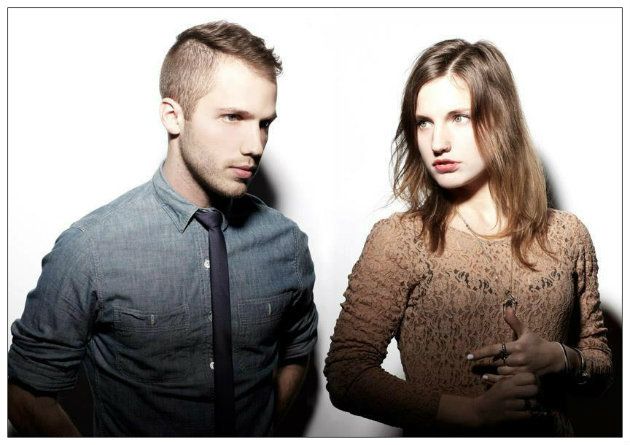 Brother and sister act Knox have as yet to fall out. This could be due to their self-proclaimed statement of deciding to make music together instead and it's clearly working to their advantage. Nic and Eliza Coolidge have spent the best part of their formative years living creatively. They've both studied music in New York and lived in Brooklyn, one of the most cultural hotspots in the borough.
This wise move enabled Knox to take in a variety of sights, shapes and sounds. The general love of music in the area ensured that there was no shortage of an audience when the duo put on shows in intimate basement venues around the city and there is no doubt that the diversity of New York has given the opportunity to express themselves in their own unique way.
Broadly describing their sound as "electro-acoustic", Knox has taken inspiration from vintage pop to 80s industrial underground, even acknowledging their friends own particular playlists; it appears that the objective was to absorb as much music as possible. With Eliza supplying the lead vocals/synth work and Nic providing the acoustics/production, the combination seems to be has working well. So well in fact that the band's latest EP Here has been signed to DJ Sasha's label Last Night on Earth – keeping things in the family is the way forward it seems.
Here is a sublime five track EP of beautiful soundscapes, haunting yet soulful vocals and ethereal acoustics. The title track is a myriad of genres, beginning with an ambient, whispering synth lead accompanied by an infectious guitar riff. The vocals are used to excellent effect with some sweeping FX adding mood and movement to the piece. The direction changes somewhat with dub-step influenced beats, deep bass and jittery tom-toms inducing a sense of urgency. A Detroit sounding synth pad breaks things up nicely and the track starts to slow down with washes of sultry vocals and mystical pads.
Next up, Here receives some "sweat on the wall" remix treatment courtesy of electronic music maestro John Tejada. Those familiar with his sound will not be disappointed with the blend of hypnotic string pads, toms and classic house bass giving essential groove and emotion to the track. The arrival of Eliza's vocals and four-to-the floor beats only add to the moment. As the remix progresses, further melodic synth stabs provided by Tejada ensure a journey of epic electronic proportions – one which should rock any dance floor.
Fault starts off with a slightly grungy guitar riff leading to some soft laid back vocals accompanied with some subtle synth work. The impending reverbed beats give a sense of space and allow the vocals to move the track forward. About half way through, there is a breakdown of synth stabs and associated FX leading to a section of haunting atmospherics. Fans of the The Cinematic Orchestra and other similar acts should appreciate this one – almost soundtrack like.
Mornings is the shortest track on the EP at well under three minutes long, but sometimes less is more. Starting off with an atmospheric synth lead, Eliza's vocals are allowed take precedence as the track is primarily an ambient instrumental affair. A few drum hits make themselves known toward the end while a drawn out guitar lick and some subtle synth patches add a warm layer of sound overall.
Finally, the title track Here receives extra remix treatment from New York artist Kuxxan SUUM. Once again the string pads are used to great effect and some vocal stabs are treated to a dose of pitch shift which also works really well. However, it's the wonderfully infectious break beat and catchy bass line that really makes this track fire on all four cylinders. With a nod (it really is head nodding material) to the old school sound of drum and bass, jungle and rave music, it's possibly a contender for the best track on the EP but let's not create any arguments now.
Here is a very diverse and thought provoking EP – essential listening.
Published in Sense of Groove circa 2012.
http://senseofgroove.com/review/knox-here-ep-review/
© 2013 Pete Rann