AN INTERVIEW WITH ALICE RUSSELL
by PETE RANN
'Unfazed by taking to the spotlight' her website proudly proclaims and there is certainly a credible justification to that statement. Soul singer-Songwriter Alice Russell is as down to Earth as they come, a person you could find yourself chatting merrily away with whilst in a pub or restaurant. She may tell you some stories about her globe-trotting exploits as a vocalist extraordinaire; then again, she might not. Perhaps this subtle modesty and her warm, approachable personality could be one of the fundamental keys to her success.
Despite her status as a talented, critically acclaimed singer who can include fans such as Giles Peterson, Dennis Coffey and Groove Armada, she remains level headed, allowing her music to speak for itself and from the soul.
As with most musicians, Alice started showing an interest in music from a young age taking Cello lessons and singing in local Choirs. After a move to Brighton she collaborated with Tru-Thoughts artist Quantic, providing vocals for two tracks on his album Apricot Morning and TM Juke for his album Maps from the Wilderness. The latter partnership proved to be long lasting with Juke producing Alice's second album My Favourite Letters. The long player was a roaring success, raising the singers profile in the process.
The level continues to soar. Seven albums later and Alice is just about to embark on another tour around North America and while other producers including Mr Scruff and Nostalgia 77 have been vying for studio time with success, TM Juke still gets first refusal as he has just finished working on her latest album To Dust.
Alice, how's life treating you at the moment, have you had a good summer?
It's been pretty mad and really beautiful down here in Brighton but I've been away for most of the summer playing numerous gigs and festivals. I'm just getting ready to go off to the States at the end of the month then back to the UK to do some more live shows. I've just been on holiday so now trying to get my head back into the game again.
Your new EP For a While is out now, can you tell us a bit more about it?
There are two different versions, one to be released in America and the other in the UK. There are also some remixes by Sam Sparrow and Ashley Beedle. We shot the video for the lead track (For a While) last month and I'm really excited to see what people think of it. Giles Peterson played the demo on his show a while back and a lot of people seemed to like it even though it's a bit wonky and a bit strange!
You've mentioned tours and I read that you will be visiting North America in October, tell us more.
I love going out there; we've been going on and off since 2007. I have a UK band specifically for performing around Europe and a lovely band that I use in North America, a rhythm section called 'The Park'. It's really cool just to be able to go out there and do shows; you never really know how the audiences across the pond are going to react. There's a different vibe and I love visiting different parts of the country particularly the little trips to LA and New York. I'm really quite excited about it.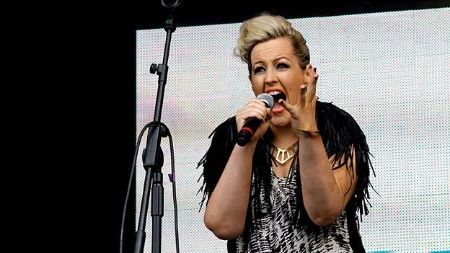 What has the reception been like State-side, how does it differ from London?
It's not actually that different. The kinds of people that are drawn to my music are similar where ever I go. I would say that the Americans are a bit more vocal during the gigs and will let everybody know they are enjoying the music. The UK audiences do the same but they take a bit more time to warm up; that said the London crowds always seem to be a bit more excitable. The American crowds are constantly shouting during my gigs though and it can be quite hilarious some times.
Where is your favourite venue or destination you like to perform and why?
There are a lot of places we like to go back to but, one place I haven't been to for a while is Japan; I absolutely adore the place. We haven't played there for almost six years. I love it because I love the food and the mad cities, Mount Fuji, Tokyo – I could go on!
Your recent album To Dust is doing really well and you have your latest EP now doing the rounds. Do you have any other releases or collaborations in the pipeline?
Yes, definitely. I did have something lined up with Quantic over the summer but we had to postpone due to other commitments. We are already hatching plans for our next release possibly an EP then an album together. We have most of December and January free of gigs at the moment so I'm aiming to get in the studio to start work on my next solo album. I felt like there was a long gap between the older albums due to non-stop touring; I'm really looking forward to some studio time to get some new ideas down.
You've been singing for a long time now, which would you say are your main influences past and present?
That's a tough question to answer. Past singers such as Aretha, Chaka and Donny Hathaway spring to mind. I'm also a fan of Gil Scott Heron – his lyrics and political messages really influenced me. I love good communicators in general and the way that their voices just cut straight through, no beating around the bush as it were. Nowadays, it's singers like James Blake. I'm still head over heels about the album, I think he's really got a new sound of soul going on, so stripped back but great use of the lyrics and the way he constructs songs. There are so many more; David Axlerod for all the big arrangements is another big influence. My record collection is pretty vast actually, very different as well.
In regard to your song writing, do you draw from your own experiences?
It comes from all sorts of places really, everyday life, relationships with other people. Quite a bit of the things I write about come from frustrations of breakdowns within relationships, even politics. I'm not just talking about the girl/boy relationships mind; I'm talking about how people misunderstand each other generally. Deep down we're just the same, made up of similar components. It's all about trying to remember those all important things such as compassion, trying to understand each other before we lose the plot. When I write with TM Juke and Quantic, we do it together. It's quite a fun thing to do it with other people as it becomes a bit insular when you're on your own – almost melancholic .When you write with someone else; it's a bit more playful.
How do you find living in Brighton? Do you find it helps with the creativity?
I think it's a good place to hide away. I'm originally a country girl from Suffolk but I love being close to London. The thing is unless you're completely minted and can afford a garden there…I do love the city though. With Brighton, it's a place to escape bearing in mind that most of the time I'm away touring; it's like a retreat to come back, you know what I mean? I can get on my bike or walk everywhere and I think it's the kind of place where you can gather your thoughts. For writing, it's always good to call back.
Back to the gigs, you're performing at The Electric Ballroom in London on 21 November. Tell us more.
We've never played there so I'm quite excited about that one. The London fans will get a little extra of course. We are going to have some special guests with a nice set-up including some double keyboards and instruments that we can't normally take with us on tour. There's going to be some surprises for the London peeps!
Who would you like to work with and why?
Oh my God, such a hard question! I really love the sound of Quadrant at the moment so I'd love to have some studio time with him. The other night I was watching the video to Bubble Butt by Major Lazer and I dreamt that Diplo phoned me up wanting to do a track; all I mentioned to him was Bubble Butt! I'd love to have the chance do something with him. There's so many more and I guarantee as soon as I put the phone down to you, I'll think of some more!
Can you tell us about a fond memory of career highlight?
I think Glastonbury this year was really cool; I'm doing it again next year. We also went on American television for the first time, guesting on the late night Jimmy Kimmel Show. I think the best highlight for me so far is doing a show with ArtDontSleep in LA. It was a seventies revival night featuring Sly Stone, George Clinton and some of the new, younger artists. We got to choose two songs each and play alongside these legends. I was just vibrating the whole time, meeting my heroes and jamming with them; an amazing experience.
What else would you like to achieve in 2013/14?
I would like to get back to playing my instruments. When you're on tour, you don't get to practice so much. I'd also like to get back to drawing. I actually went to art school but if you don't practice, you start to lose it a bit, so I find it quite frustrating trying now, looking at my current work. I think I'd like to find some more time to draw as I find it really relaxing.
Thanks to Alice Russell for the interview
http://www.glowmagazine.me/an-interview-with-alice-russell/
© 2014 Pete Rann